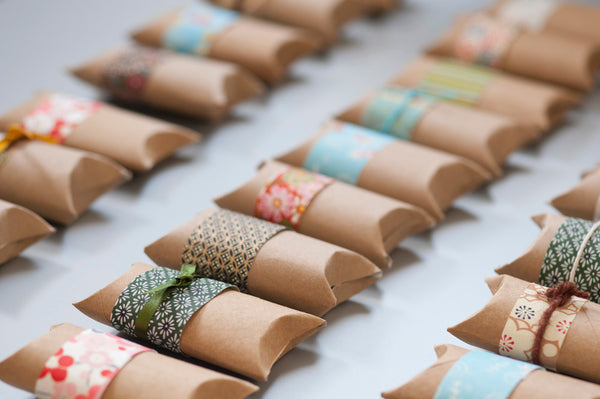 25 Days Christmas, Advent Calendar
Kids will collect nearly anything.
My six-year-old daughter got into the odd habit of collecting finished toilet rolls, and she managed to accumulate quite a substantial number.  Instead of letting them go to waste, or letting them pile up, we did various art projects, recycling them.
With the rapid approach of Christmas, I thought I'd share our experience creating the "25 Days Christmas, Advent Calendar" using the rolls, and in true Kami fashion, we decorated the rolls with Chiyogami Strips from our store to give the project a fresh look and because those strips are just so unbearably pretty.
The idea was for her to open one "gift" every day, leading up to Christmas, and act on the note found inside.
It was important that the calendar be more than just another gift-giving opportunity, because the point was not to get more store-bought gifts, so I turned the 25-days into a gratitude exercise that I could share with my daughter.
This needed planning, and a small amount of soul-searching, to work out the note to be prepared for each day, culminating at the end of the calendar, where she will have earned a present on her wish-list.
In thinking through the notes that are put in each tube, I also found that feelings of gratitude would wash over me as I sealed the ends by folding inward.  When you reflect, you can really "see" how we live our lives rushing from task-to-task, and take a lot of what we already have for granted.
Try it.  You'll see.
While you think about that, here are some of my notes as an example:
Write a thank you note to 3 friends, and think about what they have done for you in the past year that you would want to show your appreciation for. 
Pick out 3 toys from your toy box and donate them to children who need it more than us (they must be in good condition and still valued to make the point stick).
Take a walk around the house, look around, list 5 things you are grateful for.
Help mummy with a house chore of your choice.
Give daddy a 5-minute massage, and thank him for being the best daddy.
You can obviously create any note you wish to fit the values you want to share with your own kids, and remind them, as well as ourselves, about the true meaning of Christmas spirit in a way that should stick around the rest of the year.
Happy holidays!!!