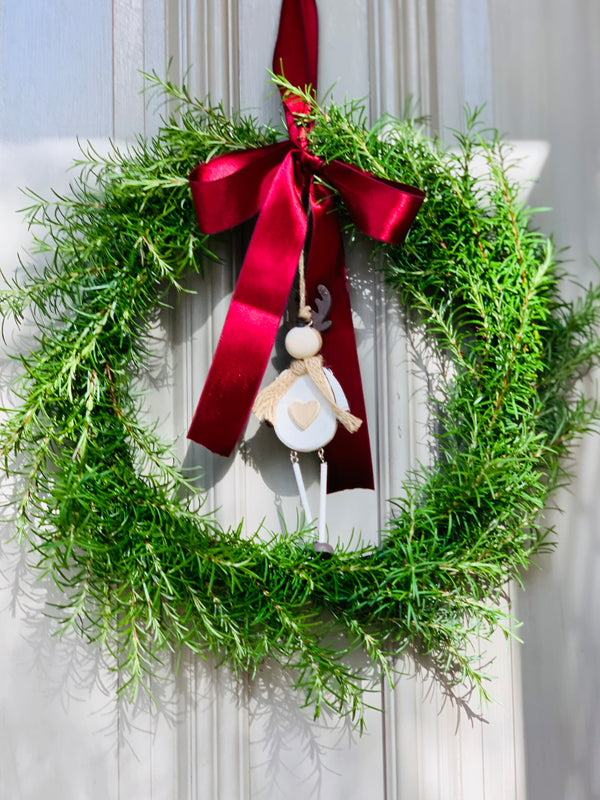 Crafty Christmas Advent With Our 9-Year-Old - A Rosemary Wreath
Christmas is the time to fill your home with all the magic and cheer of a garland on your holiday mantel, your favourite ornaments of a fresh Christmas tree, and setting your table with festive decorations to make visitors feel welcome.
With all the shopping that goes on during Christmas it's easy to forget that this is also a time to celebrate family and loved ones, and having them near.  In the spirit of a Kami Christmas I also wanted to spend some time with my daughter so I thought that doing something with our front door would be a brilliant idea: A wreath!
Whether you choose to re-purpose common household items or rely on your favourite craft supplies, a Christmas wreath is a great way to celebrate holiday cheer.
Putting this project together wasn't all that hard, in fact my 9-year-old had a great time pitching in and she was tremendously proud of herself hanging it out on our front door.
To really make it interesting, I packaged up the project into daily advent tasks. Every day there would be something to dig out of the Christmas sock we'd hung up, and with it would be a treat or task that built up over the holidays.
Task #1: Door Wreath!
Our driveway is lined with Rosemary so we decided to make a Christmas wreath with that.  We certainly had plenty to spare, even with all the anticipated cooking we'll be doing this month!
The first step was to make things a bit more manageable, so we cut the Rosemary into 10 to 15 cm sprigs, and filled about 2.5 lunch boxes.
To give the springs some shape, I got a wreath ring from Spotlight, some florist wire, florist tape, and a pair of wire-cutters (conveniently out of our tool box).
Start by putting together small bundles of 3 to 4 sprigs and tastefully spread them out.  Hold them together with florist tape.
Next, wrap a few rounds of wire around the wreath to start, gradually adding bundles of Rosemary each time while winding around the ring in a single direction.
For a bit of colour and flourish I tied it off with KAMI's beautiful handmade satin ribbon from Korea.
And, finally hang with pride and yuletide joy!