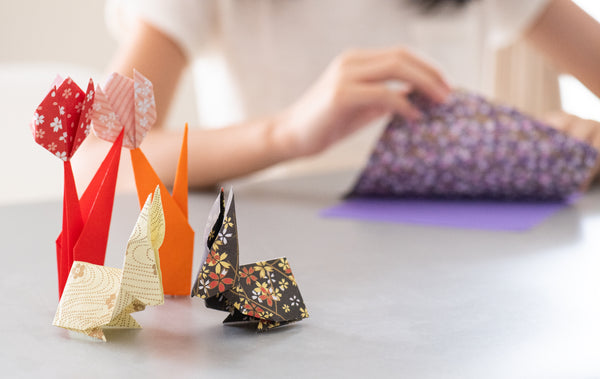 Easter Workshops Online
Easter is almost upon us, and with rebirth brings renewal and new beginnings (#easter #wfmrcreativities)!
Regular KAMI visitors will know by now that we've been doing our part and moving all of our services online!  This includes our brand new "KAMI Paper Workshops".
What Workshops are you Running?
We've got two, brand new workshops, our "Easter Origami for Children" and our "Introduction to Bullet Journaling".  They're great classes to take if you're at home over the weekend or if you have kids looking for something to do during the holidays.
The "Easter Origami for Children" comes with a few options, allowing you to choose to have just the course material if you've got Origami sheets at home, or choose the complete package and have the needed materials delivered to your door!
Our "Introduction to Bullet Journaling" is totally FREE, and is our gift to you!
The Kami team is thrilled to be sharing Bullet Journaling (#bujo #bujoinspirations) ideas for journals that you either have or plan to get. We want you to stay creative and productive, and we think that #BuJo is just the thing you need to increase your get-it-done mojo.
Dress up your pages in incredibly unique ways that really let you "own" your journal. This is just one part of our creative community collaboration, so don't forget to enroll for the online workshops.
Who Can Attend?
Anyone is welcome! We at KAMI believe that art knows no boundaries, and whether you're six or sixty, you're welcome to be a part of the KAMI paper online workshops.
We have classes organised for all age groups. Plus the timings are flexible, so you can easily attend a session that suits your schedule. And with Easter around the corner, we are starting our journey with the Easter Origami For Kids Workshop!
Let's Create Together
Finally, before we take our leave, a question: have you ever thought why humanity came up with paper?
It's because we have a need to record our journey through art, and paper has proven to be the most resilient medium. Across the centuries, paper artifacts have recorded the march of humanity towards victory.
Even today, in the face of this deadly disease, we at KAMI are hopeful. Hopeful of a better future, a better world that emerges from the creative process.
And we hope that by participating in our paper art workshop, our patrons will take part in this creative endeavor. True, times are tough. But humans have faced worse.
And with togetherness and creativity, we shall overcome.