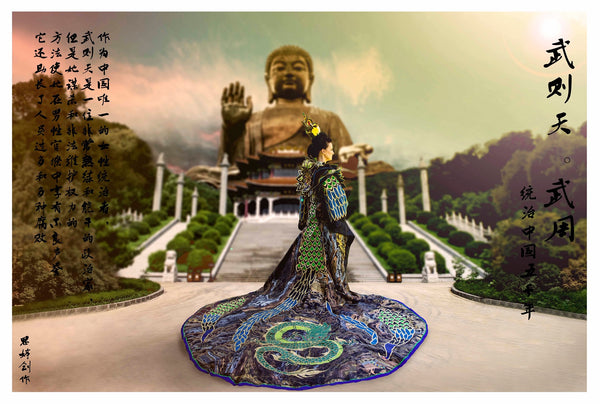 Empress At Forbidden City - Wu Zhou Dynasty
Here at Kami we are always on the lookout for amazing paper projects and regular followers will know about our updates on Facebook, Instagram and Youtube.
There is just so much awesome art out there, but every once in a while we get hit by something really extraordinary like this breathtaking new collection - design, video and images by Cynthia Hawkins (model: Cassy Ella) called "Empress At Forbidden City - Wu Zhou Dynasty". Cynthia's earlier work won her people's choice award @paperonskinwearable competition.
It's mind-blowing just to think that the entire outfit is made with paper and to see our paper being transformed into this magnificent piece of art!  And the detail is uncompromising:
The piece was constructed from Momigami (3 different types, gold, marble black, and marble white), with the peacock and dragon crafted from stiffer sheets.  Both sides are styled with different colours, and trimmed with red lace and Italian crepe paper - all from Kami.
If you like what you see, you'll be thrilled to know that these aren't "one-off" works by Cynthia.  Not only does she have an amazing portfolio of work, but she's developed a dazzling library of outfits, like this set from the year before: