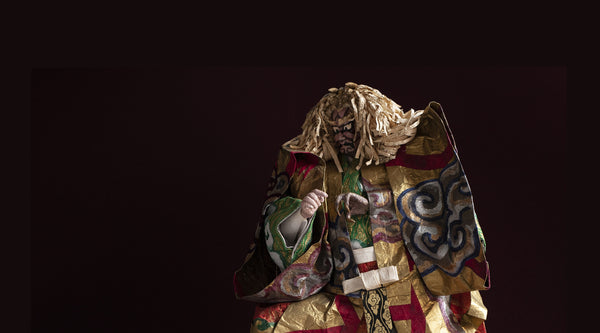 Japanese Kabuki Theatre Paper Sculptures
This impressive display is now available at KAMI Paper 
from 27th February 2021 to 20th March 2021.
There's an overwhelming demand for the sculptures, it wont be on display for long. 
A complete range of Kabuki sculptures is a rare find in Japan, and the artist has made an adaptation of the traditional Gofun Kabuki Dolls with paper.
Kabuki is a Classic Japanese Performance Art, that has been around since the 17th century, it is highly lyrical, expressed by a range of vocal and visual performance, and often weaves together historical events and myths into the storytelling.
KAMI presents this range of sculptures in a theatrical form that has spanned 4 centuries.
The set was originally part of the estate of a well known Japanese artist featuring heroes and villains, and some are mounted on the original base-boards. Individual figures range in height from 42cm to 92cm.
The clothes are made of Washi paper, and the artist used a fine pulped paper technique to create a composite material for the face and hands, which were then carefully painted white and finished
The dolls are available for final auction, as-is, where-is, without recourse, and will be available for public preview at the KAMI store in Fitzroy. There are also additional photos, information and available for all the figurines on our brochure and pricing on request
The pieces are estate fresh in excellent condition but may require light cleaning or restoration.
For more information, please write to jean@kami.com.au
Special Thanks to Dear and Junko.